Present Perfect | Overview
---
Emma is waiting to meet her friend Brad. They are going to have dinner together.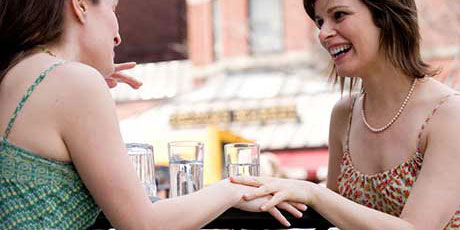 Emma: Brad! So nice to finally see you.
Brad: Hey, Emma. Yeah, Sorry I'm a little late. No excuses. Have you been here long?
Emma: No, don't worry about it. To tell the truth, I've only been here a few minutes.
Brad: OK. That's good. Hey, have you found a decent place to eat yet? I'm starving.
Emma: No, not yet. I didn't know what you wanted. Hey, I know, have you ever tried Mexican?
Brad: Ah, no, I haven't. What's it like?
Emma: Well, I think it's great, pretty spicy, though. I've had it a lot recently.
Brad: Well, let's give it a miss then. How about Greek food? Have you ever had Kleftiko? I love it. I love the herbs.
Emma: Actually, no, I haven't. It's lamb, isn't it?
Brad: Yep. Sure is. Do you want to try it then?
Emma: Sure. Let's go.
Grammar Notes
Point 1: We can use present perfect to talk about something that's finished, but connected to now.
Have you cleaned the car? Yes, I have. (I cleaned it in the past and it's clean now).
My pet rabbit has died. (It died in the past and is dead now).
Point 2: We often use the present perfect to talk about past events up until now with the expressions: 'ever', 'before', 'never', 'yet', 'already'.
Have we met before? No, we haven't.
Have you ever been to India? No, never.
Have you eaten yet? Not yet.
I have never played chess before.
Ben has already started painting the house
Point 3: We can use the present perfect to show how long present things have lasted.
I have been married for seventeen years.
My parents have always lived there.
Point 4: We use the present perfect to talk about things that have happened several times or to stress this.
I have had four phone calls this morning.
How many times have you been in love?
Amazingly, I have made four podcasts today.
Answer these questions about the interview.
---
Keep Learning
Vocabulary Challenge
Complete the sentences with the words below.
have move • have play • have write • have be • have eat