Lesson #36 | Phrasal Verbs | Overview
---
Suddenly it gets a little busy as Rob and Kay are relaxing watching TV. See how the use phrasal verbs.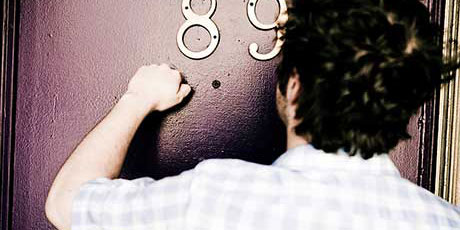 Rob: Is that the phone ringing?
Kay: I can't hear it.
Rob: Well, turn the TV down a little.
Kay: Oh yeah, it's the phone. I'll get it.
Rob: OK, oh, here's someone knocking on the door, must be the kids come home.
Kay: Can you get it? I can't hang up this now, it's my mom on the phone.
Rob: OK, OK. No problem. I'll let them in.
Grammar Notes
Point 1: Two-part verbs are made from a verb and a particle used together. The particle modifies the meaning of the verb.
Turn down the TV. (Lower the volume)
Hang up the phone. (End the call)
Point 2: We can place the two-part verb before an object noun, and often we can place it between the the verb and particle.
Turn off the music.
Turn the music off.
Point 3: Pronouns as objects are placed between the verb and particle. The two-part verb is not placed in front of a pronoun.
Pick them up.
Take it off.
Point 4: The meaning of two-part verbs cannot usually be worked out from the verb and particle and need to be learned as new vocabulary items.
Answer these questions about the interview.
---
Keep Learning
Vocabulary Challenge
Complete the sentences with the words below.
turn up • hang up • take off • pick up • turn off